19 MAIN STREET
052-001
HD Map# 11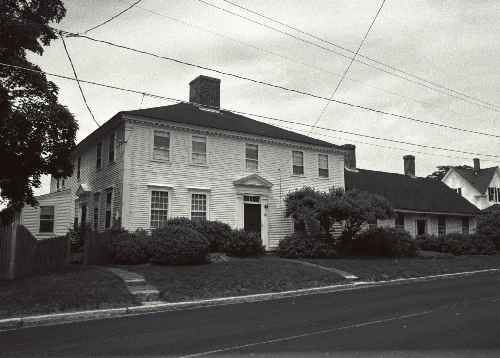 Overview of Historic District and Source of following text.
11. Whiting-Poole House, 19 Main Street, 1771. Contributing building.
The Whiting-Poole House is a two-story, hip-roofed Georgian-style dwelling with a single-story cottage appended to its north end, dating to the pre-Revolutionary War period. Resting on a granite foundation, the main house block is clapboarded and outlined by wide pilaster cornerboards. Centered on the hip roof is a large brick chimney. The center entrance contains an elaborate wooden door with three vertical raised panels set above a single horizontal panel and two lower vertical panels. Transom lights cap the door which is flanked by fluted pilasters supporting a full entablature with pediment. A similar pedimented entrance is visible on the south side but lacking the transom and with plain pilasters. The first floor windows contain 12/12 sash with entablature lintels while the second floor openings contain 12/8 sash in molded surrounds, the tops of which extend to the modillion cornice.
Behind the main block and aligned with the south wall there is a two-story, two bay extension capped by the same modillion cornice. Fronting this section is a single-story addition which includes an open porch with the rest enclosed.
To the north of the main house block, the single-story wing measures five bays wide. The center entrance is a Greek Revival period alteration and consists of a four-panel door with partial sidelights. All of the windows contain 15/15 sash except for a 12/12 window adjacent to the main house. The front eaves overhang slightly and two interior brick chimneys rise from the ridge.
This house was constructed in 1771 for Benjamin Whiting, High Sheriff of Hillsborough County in the Province of New Hampshire. Whiting lived here only a short time, leaving the state in 1776 owing to the unpopularity of the laws he was required to enforce. Benjamin Whiting's brother, Captain Leonard Whiting, a Tory, also lived in this house. In 1794 Capt. Leonard Whiting was granted a license to operate a tavern here. In 1795 the license was granted to Leonard Whiting, Jr. but in 1796 the Whitings left Hollis. Ownership of the property passed to Benjamin Parker who continued to operate a tavern here. The house was later owned by Dr. Noah Hardy who appears to have purchased the property from Benjamin Farley in 1826. Dr. Hardy continued to run the tavern which had operated since 1794. In addition to being the town physician, he also served as selectman and school superintendent.
Dr. Hardy sold the property to Lucy Farley in 1853 and it was later owned by Charles Farley of Peabody, Massachusetts who sold the property to William Poole of Boston in 1875, beginning 125 years of ownership by the same family. William Poole bought the house as a residence for his parents, Benjamin Poole and his wife, Rebecca Eastman Poole. Ownership later passed to the Poole sisters - Caroline Poole, Mrs. Susan Poole Smith, Mrs. Isabel Poole Hackett and Mrs. Marion Poole Nichols, daughters of James Pool and granddaughters of Benjamin. The sisters divided the house into apartments to serve as summer residences for themselves and their children. At various times parts of the house were also rented to tenants. Ownership of the house passed from Marion Poole Nichols to Caroline Poole in 1920 and to Robert Hackett, Sr.
"Correctionby Dorothy Hackett 2002 :only" a son of Isabel Poole Hackett, in 1943. The house is now owned by Dorothy and Robert Hackett
Correction: "Dorothy, widow of Robert Hackett,Jr.".