MAIN STREET
050-024
HD Map# 26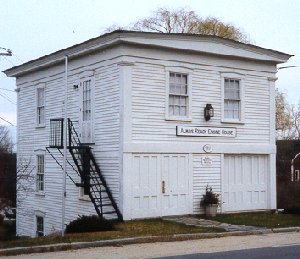 Overview of Historic District and Source of following text.
26. Always Ready Engine House, Main Street, 1859. Contributing building.
Located in a triangular island at the corner of Main Street and Monument Square, the Always Ready Engine House is a two-story clapboarded building with a lower level exposed on the east end due to the sloping site. The simple Greek Revival-style building is capped by a low-pitched gable roof and is outlined by simple pilaster cornerboards which are topped by a plain, two-part frieze. On the main (west) facade, the two original engine house doors have been replaced by modern replicas. Each of the doors gives the appearance of a set of double doors with each panel consisting of three vertical recessed panels over three smaller lower panels. A continuous wide band caps the two door openings. The upper level is punctuated by two 6/6 windows with peaked lintels, a window which predominates on the building. Both the north and south elevations are two bays wide with three levels of windows. Fenestration on the rear (east) side includes a vertical board door and a six-panel door.
The Always Ready Engine House is the oldest extant public building in Hollis and was constructed in 1859 by the Town and furnished by the fire company. Initially the building was kept for the exclusive use of the engine company but in 1862 the Soldiers' Aid Society was granted permission to meet here. In 1877 the building was altered to accommodate the Town Hearse and in 1878 part of the basement was fitted as a local police lock-up and tramp shelter. In 1892 the John H. Worcester Post of the Grand Army of the Republic obtained a lease on the hall. Other organizations which used the building over the years included the Sons of Union Veterans. The fire department finally vacated the structure in 1950 and the building was leased by the Donald C. Petry Post No. 89 of the American Legion. The building served as the police station from 1971 to 1987. It was restored about 1990.
| | |
| --- | --- |
| | |
| American Legion 1953 | Fairbanks Scales 1960 |
| | |
| Always Ready Fire house 1964 | Police 1978 |