22-24 MAIN STREET
052-049
HD Map# 27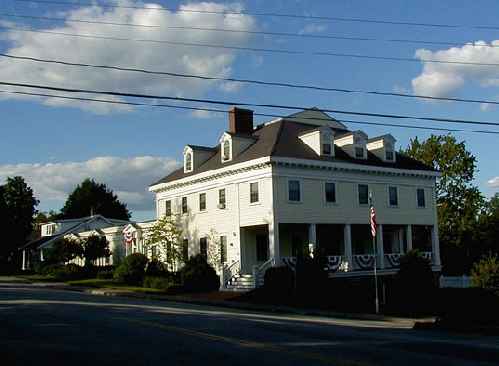 Overview of Historic District and Source of following text.
27. "The Block", 22-24 Main Street, 1914. Contributing building?
Constructed in 1914, "The Block" occupies a pivotal location in Hollis Village which earlier housed a tavern and hotel. The two-story, hip-roofed main building is sheathed in vinyl siding and outlined by simple pilaster cornerboards above a brick lower level. The block is oriented with its five-bay facade facing south with a first floor recessed porch supported by plain posts with recessed panels. Underneath the porch the main entrance contains a modern door framed by sidelights and capped by a semi-elliptical fanlight. First floor windows contain 12/12 modern replacement windows on the first floor. The 8/8 sash on the upper level extend to the two-part frieze and the modillion cornice which wraps around the building under projecting eaves.
A series of dormers, three on the south slope and two on the east and west, rise from the roof and contain arched doublehung windows.
A single-story, flat-roofed wing extends to the north of the main block. The three original storefronts were converted into residential units when the building was rehabilitated in 1996. The present configuration retains the three pedimented entrances but the adjacent large transommed store windows have been filled with clapboards and 8/12 windows with 2 x 4-light transoms. The entrance pediments are supported by Roman Doric columns with a plain frieze and triglyph end blocks with guttae.
The first building on this site was occupied by Francis Powers in the late 18th century. In 1818-20 Benjamin Messer entered a contract to build a tavern on this site for Samuel Gilbson Jewett (Henry Price later became the owner). The building was destroyed by fire in 1908 and in 1909 Franklin Worcester built the Cranford Inn on the site. The hotel and store burned on October 2, 1912 and the present building, containing tenements and a store, was built by Franklin Worcester in 1914. Beginning in the 1920s the store was operated by Davis and Goodwin and a Reading Room was opened adjacent to the store. Charles Nichols acquired the property in 1922 from Franklin Worcester and Hollis Nichols sold the property to Arthur Davis and Daniel Goodwin in 1938. Nicholas and Phyllis Coniaris purchased the building from Daniel Goodwin in 1959 and continued to own it until 1982. It was owned by George and Catherine Cook from 1982 until 1987 and by Philip and Hope Mercer from 1987 until 1996. In later years, the commercial space in the block housed Roby's General Store, the Post Office and the Hollis Times. John C. Plummer purchased the building in 1996 and renovated the entire building to single bedroom apartments.