51 WORCESTER ROAD
003-017
DAR#:128
Herbert Wright
Basic text is from the DAR History of Hollis Homes, edited by Deborah E. Lovejoy 1953 with accompanying map (Cudworth). Codes used are initials of editors from this book and from 1999-2000 update editors. See bibliography for full information.
It is said that Wilder Chamberlain, who donated part of the first communion set to the Church, built a house here before 1763 and was the first to live here. Some say that this is the oldest frame building in town. Mr. Chamberlain must have died before 1813 for in that year his executor sold four acres to Robert Colburn. A Mr. Cheney came next, and perhaps a Mr. Shattuck was here for a while.
After Cheney's death, Mrs. Cheney married a Blood and was called `'Granny Blood". Edmond Nichols Sr. came to take care of her for the place. He had two sons and two daughters. It was the daughter Ester's duty to care for Granny who was bedridden. Eventually, in the early 1880's Edmund Nichols Sr. hanged himself in the barn across the road.
Edmund Nichols, Jr. married Emogene Wright who had lived on the Parker place (No. 141), and they carried on this farm. In 1897 the property is listed in Emogene Nichols' name-100 acres, value $1950.
There was a Frank E. Nichols who grew up here. He was Edmond Nichols Jr.'s son. He married (1) Susan A. Twiss, (2) Mable Green, October 9, 1890. His son, George W. Nichols, married Emma D. Blood, November 27, 1901. She, in 1953, lives just over the line in Pepperell and her son, another George Nichols, nearby. Frank Nichols married (3) Ellen E. Gates Wright, daughter of Joseph Gates.
In May I907, the home place was sold at auction and bought by Edson Hurd. He remodeled the house and April 19, 1912, sold to Herbert Wright, nephew of Mrs. Edmond Nichols, Jr. His family of sons and daughters has now scattered but Mr. Wright still owns the farm in 1953. (DAR I Fog End No. 17-R.R. No.572)
Ese 1999 - The house and addition were moved to N. Pepperell Road in 1999 where they are being rebuilt. Remaining are parts of the foundations and the hop house near the edge of the road.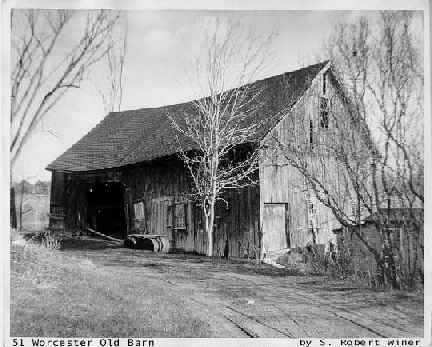 Hophouse