51 PEPPERELL ROAD
008-044
DAR# 6
Winthrop Carter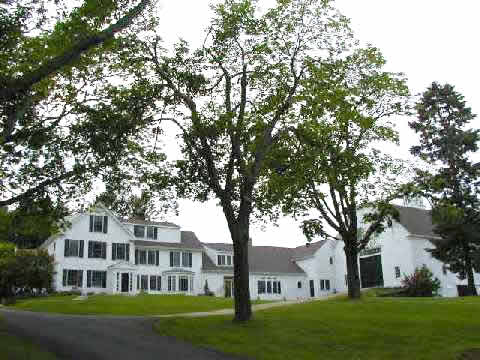 Basic text is from the DAR History of Hollis Homes, edited by Deborah E. Lovejoy 1953 with accompanying map (Cudworth). Codes used are initials of editors from this book and from 1999-2000 update editors. See bibliography for full information.
The first building on this farm was the log cabin of Thomas Dinsmore, the third settler in Hollis. He came in 1733. The cabin was probably east of the present building, perhaps the other side of the road. About 1759 Amos Eastman bought the land and probably made his home in the same place. Later he built farther south. As to when a Colburn took possession, there seems to be no record. Perhaps it was the Thomas Colburn who was at Bunker Hill. John Coburn (the L has been dropped as superfluous) and his son John Junior, a captain in the Civil War, built the present house in the 1870's. After the death of his wife, in 1914, John Coburn sold the farm to Ralph Herrick. By 1928 Winthrop L. Carter was in possession. He remodeled the house and improved the grounds, featuring a garden south of the house. After his death in 1944, his widow carried on the estate until 1950 when her son, Winthrop Junior, moved into the house and took over the management.
According to the Hollis Times Jan. 1910, Granny Eastman, third wife of Amos Eastman Jr., with caretaker, was living in the old house in 1844. John Colburn and his wife, the widow of Bradley Colburn, came soon after.
In 1775 the town voted that Mr. William Cummings keep the grammar school. He taught for many years, was town clerk 1771-72, 1782-86, lived for some years on the John Coburn farm, went to Hebron in 1790. He was a son of Deacon William Cummings (No.338A). (W.H.pg.105-Cummings Memorial by Rev. George Mooar.)
Note: From John Coburn's tale in Beside Old Hearthstones, by A.E. Brown (pg.104), we should infer that his father, James Colburn, lived on this farm or not very far away. John Coburn, born 1799, was the son of James Colburn and Susannah Hardy. James Colburn, born 1759, was the son of Thomas Colburn and Esther Flagg. He took part in the Battle of Bunker Hill and in the Campaign against Gen. Burgoyne.
| | | |
| --- | --- | --- |
| | | |
| The house was substantially renovated in 1999, with the twin goals of adding modern conveniences while preserving the historic nature of the home. As part of this project, the original ell was replaced with a new ell, similar in shape to preserve the essential look of the home, and the barn cupola was restored. | The property also includes a rustic one-room structure built as a children's playhouse by Winthrop L. Carter." (information from present owner, 2001) | This property includes an 18th century outbuilding to the west which may have been a blacksmith shop. This small building was thoroughly documented in 1999 by the Heritage Commission. |