279 FEDERAL HILL ROAD
034-007
DAR# 202
Dr. Kerr
Originally site was part of Monson
Basic text is from the DAR History of Hollis Homes, edited by Deborah E. Lovejoy 1953 with accompanying map (Cudworth). Codes used are initials of editors from this book and from 1999-2000 update editors. See bibliography for full information.
1795 Solomon Hardy, son of Phineas Hardy, married Mary Bailey and settled on this farm given to them by the bride's father, Daniel Bailey. They moved to Dublin, NH in 1847. (SH page 213)
1832 Captain Benjamin Page Hardy, son of Solomon, married Mary Colburn and settled down here.
About Thomas Lund married Tabitha French and came to this farm.
1848
1857 Samuel Franklin Hayden, son of Samuel Hayden, grandson of Josiah Hayden, bought the place. He had married Melissa Rideout in 1856. Here he lived until his death at the age of 92 in 1925.
Charles F Hayden, his son, died by accident in 1920.
Philip A Hayden, son of Charles, inherited the place, but did not live here. He is listed as owner in 1932.
1943 By this year, Dr. Isabelle Kerr owns the place. She has fixed up the house as a summer residence. (1954) (BH No.49)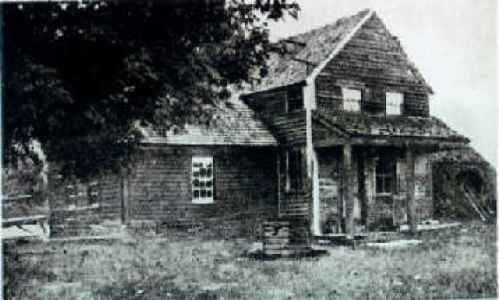 Old Photo of Camp Kerr
Remains on Camp Kerr