MONSON SITE
Also see 041-007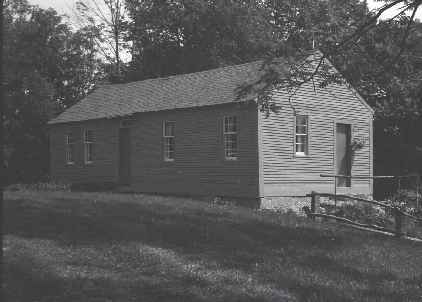 Rebuilt Gould House
what: Original town from 1737-1770. See below for history.
where: Center in Milford NH and Hollis NH off Federal Hill Road
when:
for more information contact: forestsociety.org
Click on to see enlargements of the above 2 images

Monson 1737-1770

See cellar holes Wallingford, Bailey
See also adjacent Camp Kerr 034-007
The history of the Town of Monson is recounted in best detail in S.T. Worcesters History of Hollis 1879, Chapter VI, pp 85-94. And a map showing the lines of Holles, Merrimack and Monson at the time of division of Old Dunstable and the establishments of new Charters 1746, p. 58, shows the size of Monson as being equal with Holles, larger than Merrimack and only slightly smaller than Dunstable at that time. This is important in that a good bit of what is now regarded as Hollis was at that time Monson and when we speak of Monson today it is usually of Monson Center as opposed to Monson itself. Monsons line ran due west from Muddy Brook at a place half way between Flints and Pennichuck Ponds. Its northern border was the Souhegan River. It had been settled before the charter in 1737.
Monson had a troubled history in a variety of ways. The single purpose of the division of Dunstable was for the assessment and collection of Province Taxes. Monsons corporate existence lasted for twenty-four years, during which it regularly held its annual town meetings, elected its moderators, town clerks, selectmen, tithingmen, hogreeves, deerkeepers, and other town officers, but I am pained to say that I find no evidence that it ever had a school, school house, meeting-house or a learned orthodox minister, or a minister not orthodox. The only public structure ever owned by the town was a pound, built for the confinement of disorderly cattle. The names of the selectmen and other officers include names well known in the history of Hollis: William Nevins, Benjamin Hopkins, Robert Colburn, Benjamin Kendrick, Nathan Hutchinson, Daniel Kendrick, Samuel Leeman, Thomas Nevins, and Jonathan Taylor to name a few.
The French and Indian War petition for soldiers for a guard was signed by only 14 names. Six years later in 1753 Monson asked that it might be excused from payment of Province taxes. At that time there were 21 house and the petition notes that the inhabitants are living in a very plain way and with difficulty. Several times the town warrant asked for building of a school or a meetinghouse, but they were not passed. In 1767 the census found the population as 293.
There were border problems with Monson and with Hollis with neighboring towns. In 1760 a proposal was put To annex the Land on the south side of Monson to Holles, and to Petition the Governor and Council for such part of Souhegan West to be added to the Remainder of Monson as will be sufficient to maintain the Gospel, and other incidental charges.
Finally in 1770 the people of Monson seemed to abandon hope of maintaining preaching, or of settling the Gospel among them, or of building a meting house, or seven of finding a suitable Meeting-house Place. They petitioned the General Count to end their corporate life and repeal their charter. This is unique in NH. They stated a reason: That the Land in and about the Center of Monson is so very poor, Broken, Baron and uneaven, as cannot admit of many Settlers, so that those Families that are in Town, are almost all planted in the Extreme parts of it.We have no prospect of ever Building a Meeting-House in the Center or elsewhere, any ways to accommodate us, by which Difficulties we think the Gospel will not be settled among us while in the present situation. We therefore pray, &tc. Since its corporate death it has been divided into four pieces: the largest is in Milford, smallest in Brookline and the rest about equally divided between Amherst and Hollis.
BUT, Monson has another story. Monson Center which might have gone to development of 28 luxury homes in 1998 was the subject of a concerted effort of citizens and neighbors in both Hollis and Milford led by a couple living near the center of Monson, Russ and Geri Dickerman, who have given land and made it their life work to adopt Monson. The NH Society for the Protection of Forests and Inherit NH purchased 200 acres. Mr. Dickerman and his wife have restored the one remaining building from shambles. Trails are now marked where the cellar holes of Monson Center tell an old story with the history of those who lived in each posted. Archeological studies have been made and hopes are that there will be more study. State historian Gary Hume says Monson is among the most archeologically significant sites in New England. Monson Center is open to people who want to take a walk back in time. Visit the Forest Society's website www.forestsociety.org to learn more about this special place: www.forestsociety.org/property/monson-center